I'm trying something new this year…I'm planning ahead! 🙂  I typically don't even start thinking about the next school year until August (school starts for me in September), but my goal this year is to have my year pretty much figured out BEFORE August so that I can relax and enjoy my last month of Summer.  I know I will still have things to do in August like setting up my classroom, but I am hoping to have as much done by then as possible.
So far I have brainstormed some classroom policy ideas that I want to change next year, which I will write about in future blog posts, and I have started writing out my curriculum maps/scope and sequences for each of my classes.  To keep me motivated I am breaking up the more "serious" planning with some fun projects for my classroom that I enjoy doing, like making posters & decorations.
Here is the first poster I made for my classroom that you can download FREE from my TpT store!  I made it because I am tired of having students show me "completed" homework that is NOT up to my standards and having them look at me blankly when I tell them it needs to be redone….so I thought it would be helpful to post the components of an acceptable homework assignment.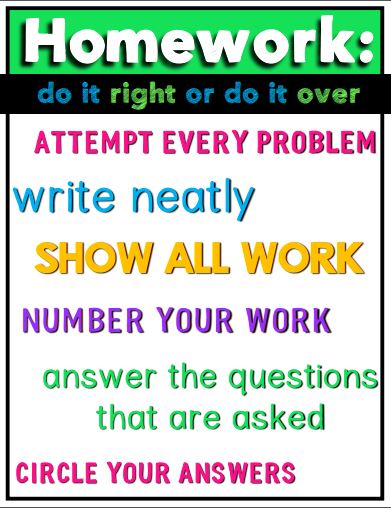 In my next blog post I'll start sharing my curriculum maps and other plans for the year!
Thanks for reading,
Christina