Just a quick post today to share a little organizational tool I am using this year…
I got the idea from Pinterest (not sure who it originated from) to assign myself different tasks for different days of the week.  I also can be a pretty forgetful person at times, especially after a long day of work, so I needed a way to help myself remember all the little things I need to do (like turn off the air conditioning at the end of the day).  I have combined those two ideas into one weekly to do list.  🙂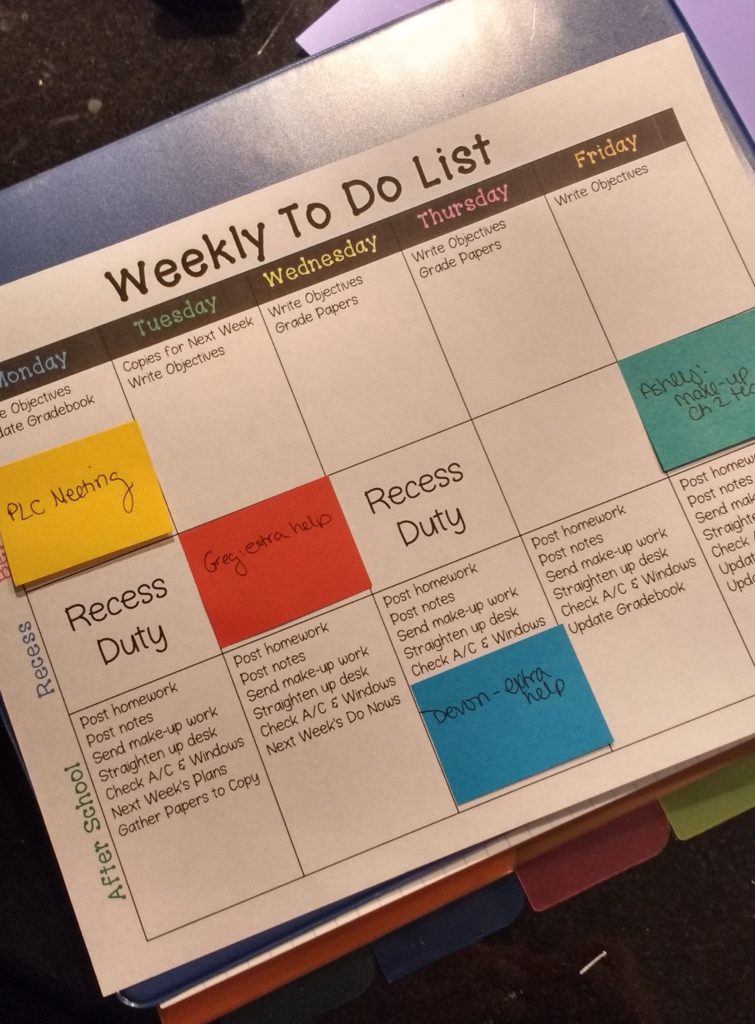 I broke up my days into 3 times that I have free time: before school, at recess, and after school.  (I didn't include my prep periods because I like keeping them flexible and using them in the best way I see fit at the time.)
I started by listing all the things I need to do on a daily basis: listing my objectives on the board, posting homework online, saving & sharing my notes with my students through Google Drive, sending make-up homework assignments to students who fill out my homework accountability form, cleaning off my desk, and checking the air conditioner and windows to make sure they are off and closed.
Then I took the tasks that I do one or two times a week and assigned them to specific days:
Update online gradebook: Mondays & Thursdays
Write lesson plans for the following week: Mondays (then update them on Fridays if I am "off" my schedule)
Make copies for the following week: Tuesdays (I'll gather the papers on Mondays after writing my lesson plans so they are all ready to go)
Write "do nows" on Socrative for the following week: Tuesdays
Grade papers: Wednesdays & Thursdays (I am sure I will use my prep periods to grade other days, as well)
I assigned some of those tasks for mornings and some for afternoons.
The part I am most excited about is that I set up my weekly list to have room for sticky notes (1.5 x 2 inch size).  So, I will only print this list once for the year and any time something pops up that I need to take care of, I will stick a note on to remind me when to do it.  I often have students come in for help or to make up absent work during recess or before/after school, so I can just write it on a sticky note and attach it to this page so that I remember who is coming and when.
If you want to try something similar, you can download the editable PowerPoint (pptx) file by clicking the image below: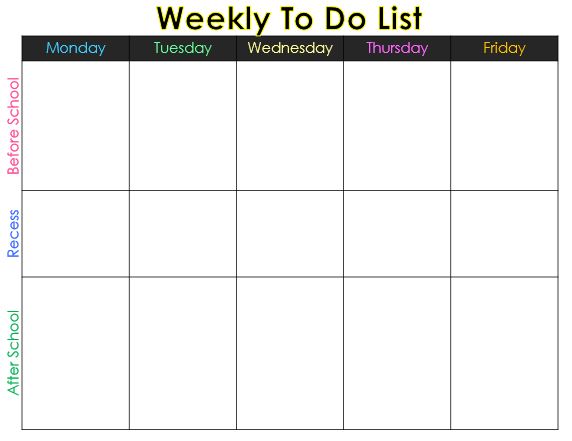 Thanks for reading,
Christina