Organization is probably the thing I struggle with most as a teacher.  My method (or lack thereof) of keeping track of homework is something that I know I need to reorganize this year.
I am happy with my homework policy as a whole, but just need to change the way I keep track of who did or did not complete it.  Here is my homework policy:
I assign homework just about every night in my math classes.  It is worth two points per night.  (I use the point system of grading).  I do not collect the homework or grade it based on correctness.  I grade it based on completion only.  If a student attempts every problem AND shows their work they get 2/2, if they complete about half of it they get 1/2, and if they did not do their homework (or did not show their work) they get 0/2.  I walk around while students work on their "do now" problems and check to see who did it…and that's where my organization falls apart.
In my old school my math classes were VERY small (they ranged in size from 4 students to 7 students).  At that school, I just kept a list of students who were missing homework assignments.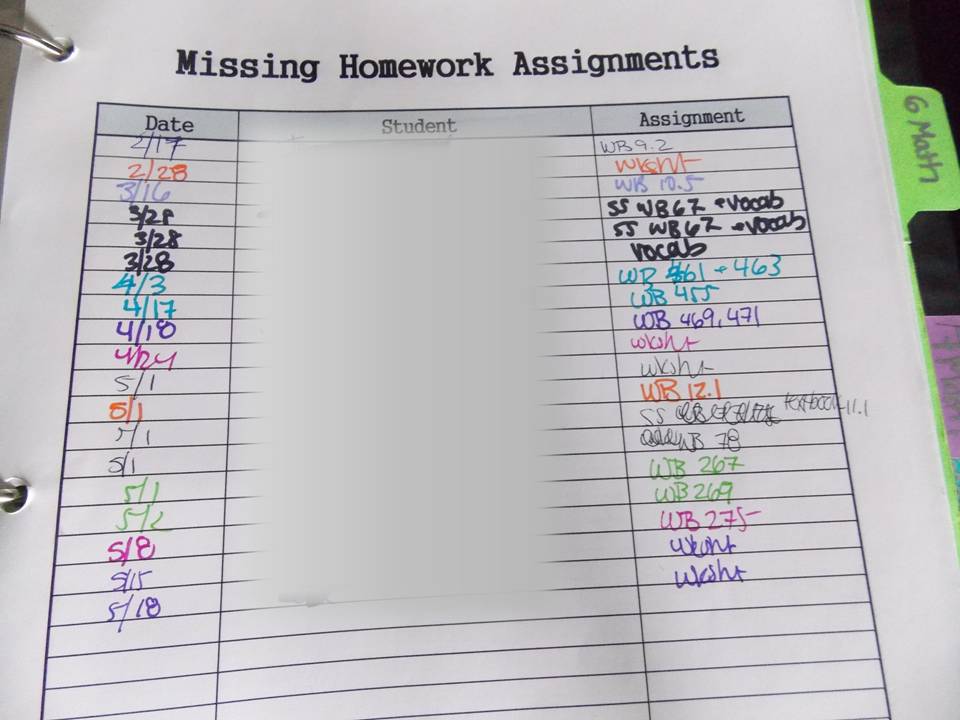 It worked for me in that small setting because I never had more than one or two students not complete their homework on any given night so it took me less than a minute to write the date, student's name, and missing assignment down.
When I switched schools last year my classes grew considerably…to around 20 students per class.  I learned pretty quickly that in larger classes there are more students who don't do their homework each night so I didn't want to take the time to fill out all the info for each student who was missing work as it would take too much time.
So…I ditched my old method and switched to sticking post-it notes in my binder: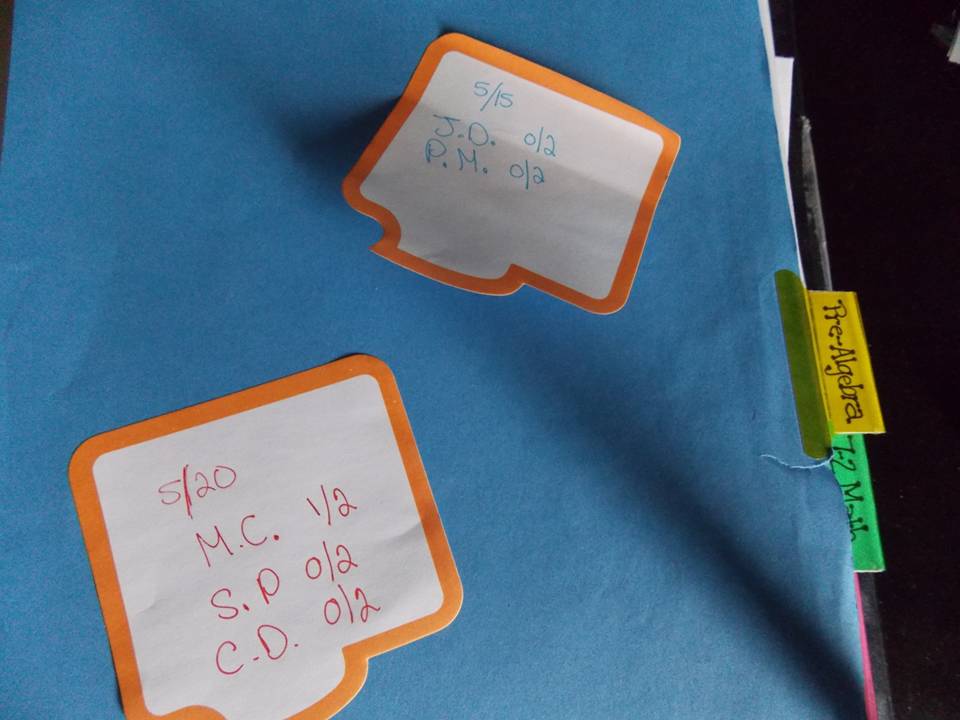 I just wrote the date on a sticky note and the initials of all students who were missing homework that day and either 1/2 or 0/2, depending on the grade they earned.  I consulted my sticky notes when I put grades into my computer later, and then threw them out.  This method was definitely quicker than my old one but obviously had some downsides…such as: I didn't actually write down the assignments the students were missing, just that they were missing an assignment, and the sticky notes would occasionally fall out of my binder.  Bottom line is that it didn't keep me organized at all.
Soo…this year I am opting to go with the more traditional homework record sheet.  I made one up in Excel. (You can click on the picture below to download the excel file if you are interested)! Click here if you prefer a pdf version of the record sheet.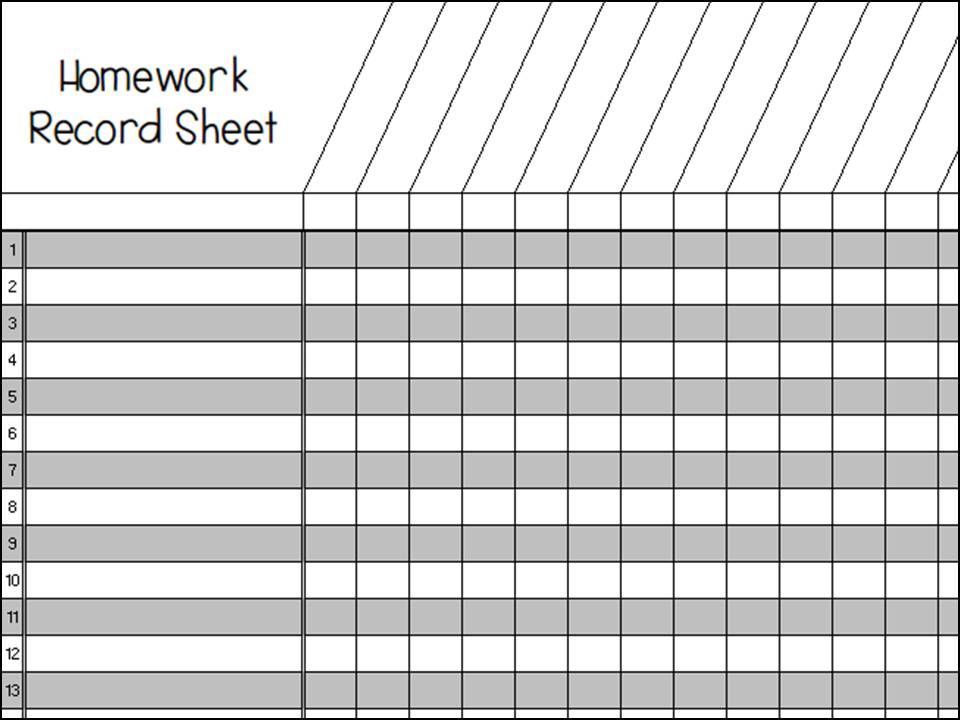 I will type in my students' names once I get my class lists, and across the top I'll fill in the date and homework assignment each day.  The key is going to be remembering to keep on top of this.  My plan is to fill in the assignment part when I assign the homework the day before so that I don't need to take too much time to fill out the info when I am checking homework the next day.
I am hoping that it will look like this as I fill it in throughout the year and that I will stay nice and organized (at least as far as homework is concerned this year)!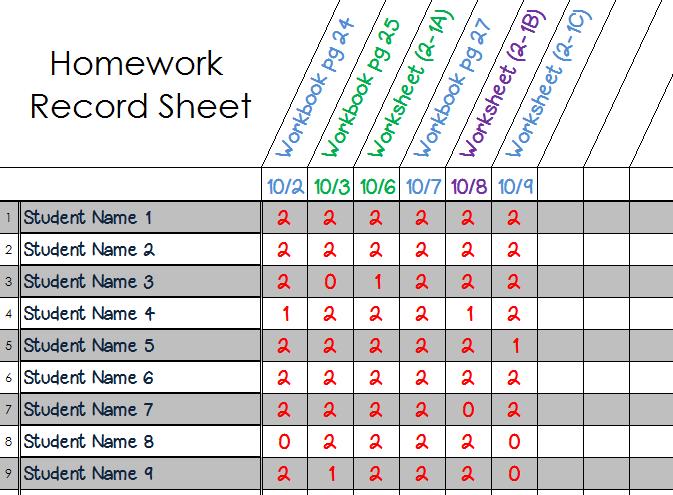 What method have you used that works well for keeping track of missing homework?
Thanks for reading,
Christina