Happy Labor Day!  Tomorrow is my first day back at school so I figured I would write one more summer blog post about how I am getting organized for this school year.
Today's post is about one of those simple organizational ideas that I probably should have come up with 5 or 6 years ago but didn't think of until now…
I typically try to wait until everyone in the class has taken a test before I grade it.  I do this because I think it helps me grade fairly.  When I grade them all at once it is much easier for me to be consistent with the amount of partial credit I award for problems.  If, for example, I grade some math tests one day and others a different day I may not remember how many points I took off of Jack's test for not writing a negative sign so I may take off more points on Sara's test for the same mistake.
The problem with waiting until everyone has taken a test, though, is that in the past I have been pretty dependent on students reminding me that they still need to take a test when they come back from an absence.  Sometimes I remember who hasn't taken a test, but with so many other things to worry about I often forget.
So…this year I decided to fix this issue by making simple assignment checklists.  They are basically just a list of all of my students' names with little check boxes next to them.  I made the checklists small (I fit 5 copies of the checklist on one sheet of paper) so that I wouldn't waste alot of paper on them.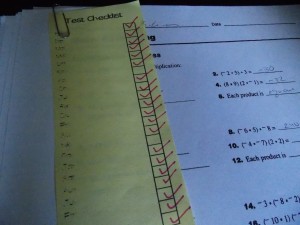 My plan is to go through my stack of tests the day I administer the test and just make a check mark next to all the students who have taken the test.  I will then paperclip the checklist to the top of the pile of tests so I can look at it real quick and see who still needs to take the test.  It's a really simple idea (that definitely should not have taken me 7 years to come up with) but I think it will really help with my organization this year!
If you want to print out checklists that you can use for your class, click the picture below to download an editable Microsoft Excel version of them.  I set it up so you can just enter your students names in the first column and they will be copied 4 other times so that you have 5 copies of the checklist per page.  Then you just need to cut apart the 5 lists and you are good to go!  Enjoy!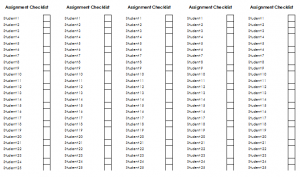 Wishing you all a wonderful school year (whether you are starting this week, like me, or have already gone back)!
Thanks for reading,
Christina